Welcome To Battlefield Pharmacy
Serving the Fort Oglethorpe Community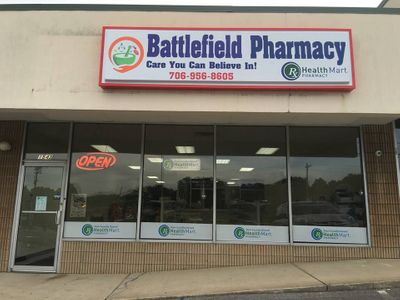 What Patients Love The Most
"Mike and his wife / work family take excellent care of their customers. They go above and beyond, even more than I ever expected from an independent business establishment."
"Hands down best pharmacy from customer service to prices. Wouldn't go anywhere else 10 out of 10."
"I am so thankful for Mike! No one in the area had our prescription needed, and couldn't get it ordered in for 2 days. Mike not only answered his phone after business hours, but got it the next day!"
Helpful Tools For Existing Patients
Three Ways To Become A New Patient
Our Mission Statement
Here at Battlefield Pharmacy, we believe that being a community pharmacy means your experience should be personalized and unique. We have been proudly serving the Fort Oglethorpe community since 2016 and our friendly staff is dedicated to providing you with a service that is unmatched by others. Our expert pharmacists will take the time to answer all of your questions and our friendly, professional staff will make you feel right at home. Being a customer-centered pharmacy means your happiness and well-being is our top priority. Stop by today and and experience the difference a community pharmacy can make. Read more about us here »